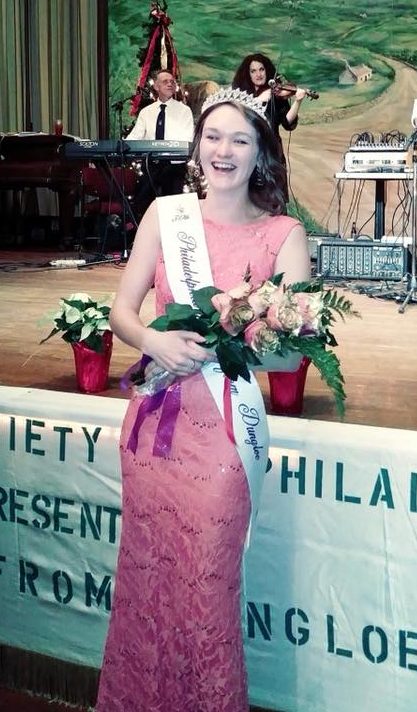 The Philadelphia Mary from Dungloe is an Irish heritage competition for young women of Irish descent, and it is sponsored by The Donegal Association of Philadelphia, as well as Newbridge Silverware and Celtic Complexion. One lucky young lady is selected at the annual Donegal Ball. Young women of Irish descent who are unmarried and between the ages of 18 and 27 are welcome to apply! The winner receives an all-expenses-paid trip to Ireland to compete in the International Mary from Dungloe Festival in County Donegal, in addition to gifts from Newbridge and Celtic Complexion, and a $500 scholarship.
MARY FROM DUNGLOE 2018 – Katrina Terry
Katrina Terry can trace her family roots to Antrim and Donegal. She is a first year graduate student at Drexel University and is enrolled in a biology PhD program as well as a MS in STEM Education. She graduated Magna Cum Laude with a Biology Clinical Laboratory Science degree and minors in Chemistry and Mathematics from Neumann University. Katrina has participated in research for four years and has three scientific publications. She has been heavily involved in leadership positions on campus with positions ranging from resident assistant to manager of the club ice hockey team. At Drexel, Katrina teaches Cellular and Genetics. She would like to inspire students to learn and encourage students to get involved with research at an early age. In addition to instructing two lab sections, she is leading a research project that studies the evolution of genetics. Katrina will be researching diseases such as Alzheimer's and Schizophrenia come winter quarter. She would like to incorporate traveling as a scientist to learn about different cultures and share her experiences in the sciences. Katrina is an active member on Philadelphia's Hurling and Camogie team, Na Tóraidhe. She participated in tournaments in Allentown, Jersey Shore, and New York. In September, she traveled with the hurling team to San Francisco and supported their efforts at nationals. Joining Na Tóraidhe has allowed Katrina to get involved with the Irish American community of Philadelphia and the USGAA. She also competed with the University of Connecticut and Jersey Shore during tournaments this season. Katrina was a productive midfielder for Jersey Shore, shoring three goals and two points during a tournament, helping them win the Mary Cosgrove Cup! She has been invited to UCONN to compete with their collegiate team and had the honor to represent Jersey Shore in Virginia Beach for the USGAA convention.
Visit our website to apply today!