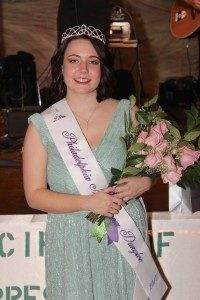 The Philadelphia Mary from Dungloe is an Irish heritage competition for young women of Irish descent, and it is sponsored by The Donegal Association of Philadelphia, as well as Newbridge Silverware and Celtic Complexion. One lucky young lady is selected at the annual Donegal Ball. Young women of Irish descent who are unmarried and between the ages of 18 and 27 are welcome to apply! The winner receives an all-expenses-paid trip to Ireland to compete in the International Mary from Dungloe Festival in County Donegal, in addition to gifts from Newbridge and Celtic Complexion, and a $500 scholarship.
MARY FROM DUNGLOE 2017 – Marissa Barry
Marissa is from outside of Reading, PA (Berks County).  She is 22-years-old and a senior at West Chester University, outside of Philadelphia. She is a Business Management student as well as an intern at United States Liability Insurance in King of Prussia. Outside of school, Marissa has a passion for music. Marissa has been singing since she was in 4th grade, and has had the privilege of singing our National Anthem at many events throughout the years. Marissa is also a huge fan of traditional Irish music, and is teaching herself how to play the Irish tin Whistle. During the summer Marissa also enjoys volunteering with Berks Nature, a conservancy that offers a summer camp to teach kids about science, nature and the importance of environmental conservation.
Visit our website to apply today!